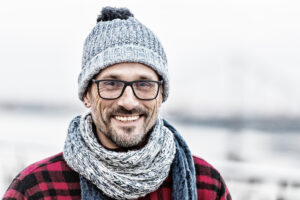 As the year draws to an end, many people are contemplating what they can do in 2022 that feels exciting and new. One thing you can resolve to do is finally take on problems that you have with your smile. At our Greenville, TX dentist's office, we can recommend that you take on problems with your appearance with custom porcelain veneers. With these restorations, it is possible for you to hide blemishes, damage to your enamel, and general wear and tear that has you feeling self-conscious. Because this is just one option of several for cosmetic treatment, we can offer different solutions if you want to show off a more attractive appearance!
Are You Happy With The Smile You Are Bringing Into 2022?
If you feel less than happy with your smile right now, it can be appealing to look at options for cosmetic dental work. Through the right procedure, we can help you hide and address flaws with your smile. Veneers are capable of covering up several different issues. When you go through this procedure, you can make a dramatic overall change to your appearance. The durable nature of these restorations can make it easier for you to preserve the results you see for many years beyond 2022!
Planning Cosmetic Treatment With Custom Porcelain Veneers
Porcelain veneers are custom-made for the patient undergoing cosmetic dental work. Taking care to personalize them can ensure that they make the right improvements and maintain a natural appearance. Your procedure will call for two appointments. We gather the measurements that we need at that first visit, and we can do preparatory work to make sure that your veneers have the space that they need. At your second visit, you will have them affixed to the fronts of your teeth. The bonding process is permanent, and capable of keeping your smile more attractive for many years.
Discussing Other Cosmetic Treatment Options That Are Available To You
While many patients are thrilled with the results they see from veneers, they may not be the right approach for you. As an alternative, we can recommend that you undergo tooth bonding and contouring work, which can deliver improvements with fewer changes to your tooth structure. Another service we can offer is treatment with clear aligners. This is a procedure for those who are bothered by malocclusion. Instead of using metal braces to make corrections to teeth spacing, you can rely on these more conservative appliances.
Talk To Your Greenville, TX Dentist About Care With Porcelain Veneers
Our practice is here to help patients with different concerns about their oral health as well as their smile. If you are interested in what you can do to change your smile in the new year, we can talk to you about porcelain veneers and other beneficial services. If you would like to look into different treatment options, contact your Greenville, TX, dentist, Dr. Smith, at 903-455-5750.