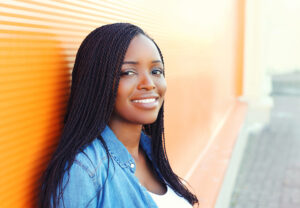 Is there any way to fit dental work into just a single appointment? If you need a dental crown because of an advanced cavity or injury, you may assume that you will have to wait for yours to be ready. In the past, you may have been asked to depend on a temporary crown during this waiting period. While many other dental offices can still require this, our Greenville, TX dental practice can make care easier with our same-day restorations! We have the technology required to produce single visit dental crowns. In addition to being the right color and texture to imitate your healthy enamel, your custom crown can be carefully designed to provide long-term stability and support.
Why Do I Need A Crown Instead Of A Filling?
If you are told you need a dental crown instead of a filling, you may wonder why you have to depend on a larger restoration, and one that requires greater changes to your tooth structure. This approach is taken when a cavity does more harm than a filling can address, or when a tooth is physically broken and needs more support. With CEREC same day crowns, we can make sure that you have the support you need, and that your smile is unchanged, and we can still fit your restorative dental procedure into just one appointment!
Cutting Down The Treatment Time Required For Crowns
With the technology we keep in our office, we are able to go through all of the steps required to design, make, and place dental crowns for our patients. First, we will capture detailed digital measurements of your tooth so that we know what shape and size your restoration should be. After this, a digital design of the restoration is produced, and a lifelike restoration is made with our in-office milling machine. Once the restoration is ready, we can put it in place to keep your tooth protected!
Preserving Your Smile And Preventing Future Oral Health Issues
The more consistent you are about both daily oral hygiene and regular dental exams, the less likely you are to need the kind of treatment that ends with a crown being put in place. Our office is able to provide thorough reviews as well as dental cleanings that remove the buildup of plaque and tartar that make cavities and other problems more likely to occur.
Talk To Your Greenville, TX Dentist About Receiving A Same-Day Crown!
Your same-day crown can provide long-term protection for your tooth while still preserving your appearance and bite function. We are ready to offer this and other services to our patients when they need them, and we can help them stay safe from future threats by providing consistent cleanings and evaluations. If you would like to find out more, contact your Greenville, TX, dentist, Dr. Smith, at 903-455-5750.