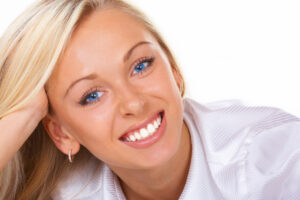 Does restorative dentistry provide you with anything more than a means of protecting a vulnerable tooth? If you have the right kind of care, you can see improvements in your well-being, enjoy the restoration of your bite function, and even show off cosmetic benefits! Our Greenville, TX dentist's office can provide meaningful protection and surprising convenience for our patients, as we provide same-day dental crowns. The CEREC technology in our office makes the work of restoring teeth more convenient without sacrificing the cosmetic benefits of a custom-made and lifelike crown. We should note that we do provide consistent preventive services, too; by keeping up with your oral hygiene, you can avoid problems that make more advanced restorations necessary!
What Problems Do Crowns Solve?
Dental crowns are sometimes, but not always, required when patients have issues with cavities or when dental injuries occur. Because crowns completely surround teeth when they are put in place, they provide the kind of coverage that leads to lasting benefits, and they can effectively restore your bite health as well as your smile. For cavity treatment, we will use a crown when a filling is not able to respond to the amount of damage to your tooth structure. Less severe tooth injuries can sometimes be treated through cosmetic dental work, but when the matter is more serious, we can use crowns instead.
Using CEREC Technology To Make Your Crown
CEREC technology provides all of the resources that we need to produce lifelike crowns at our location. The first step in your treatment calls for the measurement of a tooth that is being cared for. Once we gather the digital measurements we need, we can produce a digital design of the restoration that you will receive. From there, we can produce the crown with an in-office milling machine. That restoration caps your tooth, keeping it completely hidden. You will not have to worry about treatment attracting unwanted attention thanks to the ceramic material used to make your restoration.
What Can You Do About Less Severe Problems With The Conditions And Appearances Of Flawed Teeth?
If your issues with teeth that are misshapen or damaged do not call for crowns, we are prepared to plan cosmetic dental work with you. Porcelain veneers only cover the fronts of teeth, which means they require less advance work to make room for them. They are strong enough to hold up over the course of many years after being fixed in place. Another option is to undergo dental bonding and contouring work, something that can carefully restore a tooth that looks out of place without the need for any permanent restorations.
Talk To Your Greenville, TX Dentist About Receiving A Same-Day Crown!
To learn how a same-day crown can restore your smile and oral health, please contact your Greenville, TX, dentist, Dr. Smith, at 903-455-5750.