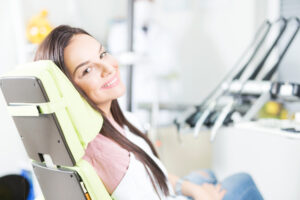 If you need to undergo dental work, you can worry about different aspects of care: How long will treatment take? How will my smile look? Will this affect my ability to bite and chew without discomfort? Through the right approach to care, you can have a positive experience, one that leads to lasting benefits in a surprisingly short time. Our Greenville, TX dentist's office can provide care with same-day dental crowns, which means we can cap a tooth with a restoration that looks natural and fits securely without a frustrating wait. When this kind of care is appropriate, we can make sure that it takes place over a short time while offering lasting advantages.
How Can My Dentist Have My Crown Ready In Just One Visit?
Because many dental offices use third party labs to create restorations that they place on patients' teeth, they need at least two appointments to complete care with dental crowns. In between these visits, you can receive a temporary crown that is less secure. At our practice, we can close this gap in your care by using CEREC technology to produce a same-day dental crown! The convenience of this approach is exciting, and it can produce restorations that offer enduring protection as well as coverage that lets you preserve your smile.
Placing A Crown To Defend Your Vulnerable Tooth
Through the placement of a custom dental crown, we can protect a tooth hurt by an advanced cavity as well as one that has been through physical harm. With the vulnerability of your dental trouble addressed, you will not have to worry about the impact of your issue on your smile, well-being, or ability to bite and chew.
Through the use of CEREC technology, we can go through this full placement process in a single appointment. At that visit, your tooth will be digitally evaluated before a custom design is produced. After that digital design is created, your crown will be created with a milling machine. The one that you receive will be made from a ceramic that can cover your tooth and imitate its appearance.
What You Can Do To Lower Your Risk For Future Oral Health Threats
As reassuring as it can be to have access to convenient and dependable restorative work, you should still take preventive dentistry seriously. Through these regular visits, you receive protection that lowers your risk for future cavities, as your teeth are expertly cleaned. They are also closely checked, so problems that have formed are treated with dental fillings before more involved treatments have to occur.
Talk To Your Greenville, TX Dentist About Receiving A Same-Day Crown
To find out more about the benefits of treatments with same-day dental crowns, reach out to your Greenville, TX, dentist, Dr. Smith, at 903-455-5750.