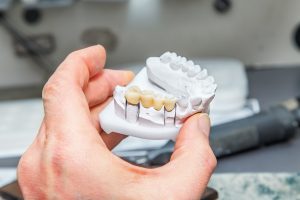 Even if you lose a single tooth, this could mean the onset of serious complications. In addition to the embarrassment of an exposed gap in your smile, tooth loss could lead to misalignment, TMJ disorder, and more. Fortunately, we help restore smiles in Greenville, TX, with our lifelike bridges. How do we create and place a bridge, and what benefits will they offer?
How Missing Teeth Impact Oral Health
The gap in your smile is much more than just a cosmetic concern. Did you know surrounding teeth may drift, leading to the onset of misalignment? When this occurs, caring for your smile becomes more difficult, increasing the risk of cavities and periodontal disease. Lack of natural teeth also puts pressure on your temporomandibular joints, causing a greater risk of TMJ disorder and chronic teeth grinding (bruxism). Have we mentioned the problems some experience eating their favorite foods or even speaking clearly? What about the fact that the body stops supplying the jawbone around the lost teeth with key nutrients, causing the bone tissues to deteriorate and leading to an aged appearance and even further tooth loss?
Dental Bridges
Placing a prosthetic prevents misalignment and alleviates pressure on the jaw joints. The prosthetic contains the replacement teeth, referred to as pontics, with crowns attached to each end. We prep the teeth on either side of the gap by removing a small amount of surface structure. We then place the crowns on them, which hold the new teeth in place. The prosthetic itself will be crafted from lifelike materials, such as ceramic, to ensure a natural appearance and the ability to withstand powerful bite forces. On average, they can last between 10 and 15 years.
Implant Bridges
We may also support them with dental implants. An implant bridge means we don't need to remove tooth structure from surrounding teeth. In addition, inserting the dental implants into the jawbone stimulates the growth of jawbone structure, since the body recognizes them as natural tooth roots. This preserves facial structure and helps prevent further tooth loss. Implant-secured bridges also last much longer, decades even with proper care and attention. The option we choose for your smile will depend on a number of factors, such as the presence of gum disease or if you've lost substantial jawbone tissue. If you have any questions about our dental bridges, then contact our team today.
Have You Lost a Tooth?
If you have one or more missing teeth, then talk to our team about our lifelike dental prosthetics. To find out more about our prosthodontic dental treatments, schedule a consultation with Smith Family Dentistry in Greenville, TX call us at 903-455-5750. We proudly serve patients from Hunt County, Greenville, Royce City, Sulphur Springs, and all surrounding communities.