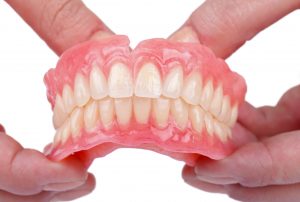 If you lose a majority of your teeth, then you need more than a simple bridge to restore the function, health, and appearance of your smile. You need dentures. We have three different options available for our Greenville, TX, patients. How do they differ, and which one is right for your smile? Find out more about our custom prosthetics in today's blog.
What Happens When We Lose Multiple Teeth?
First, the obvious gaps or lack of teeth could mean embarrassment and impact your social life. Others may have trouble eating their favorite foods. Being forced to rely mainly on soft foods mean depriving your body of essential nutrients. Since the body will stop sending nutrients to the jawbone around a missing tooth, the bone tissue dissolves. Over time, this means an aged appearance and further tooth loss. Addressing you missing teeth is crucial for keeping your smile healthy and whole.
Partial
A partial is meant for those with several lost teeth, but not enough missing teeth to need a full denture. The prosthetic will contain your new teeth, usually created from ceramic or other strong and lifelike materials. The base the new teeth will be attached to is designed to mimic gum tissue and created using acrylic. There will also be metal clasps, which we attach to remaining natural teeth to anchor the denture in place. On average, the denture will last between 5 and 10 years before changes to your jaw ridge require a new one.
Full
If you've lost a majority of your teeth, or all of them, then this option offers a full row of natural looking teeth, set in a base that mimics gum tissue. Unlike a partial, this one doesn't use a metal clasp to stay in place. Instead, suction anchors your new teeth. Like partials, they tend to last 5 to 10 years before replacement is required.
Implant-Secured
Both options discussed above help restore the ability to eat a greater variety of foods and improve the ability to speak clearly. However, they don't address the loss of jawbone tissue. But dental implants, however, actually stimulate the growth of jawbone tissue, preserving your facial structure and enabling the dentures to last much longer. We place multiple dental implants to secure your full or partial, restoring your smile's beauty and health. If you have any questions, then please contact our team today.
Let's Treat Your Tooth Loss
We want to help restore the health and beauty of your smile, addressing your severe tooth loss. To find out more about our dental prosthetics, schedule a consultation with Smith Family Dentistry in Greenville, TX call us at 903-455-5750. We proudly serve patients from Hunt County, Greenville, Royce City, Sulphur Springs, and all surrounding communities.