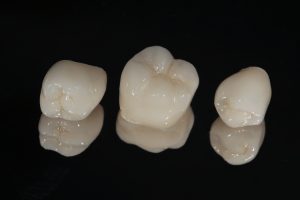 At one time, hearing you needed a crown meant accepting the fact that you would need two to three visits to repair your smile. However, we understand how hectic schedules can be, and that setting aside that much time can be difficult. Fortunately, we can help our Greenville, TX, patients with our same day dental crowns.
Frequently Asked Questions About Single Visit Repair
Question: How do you create a crown in one sitting?
Answer: If you need a crown, then we begin by preparing the tooth receiving one. We remove a small amount of outer structure, and then take a series of detailed digital images of your tooth. We combine these images to create a 3D model of your tooth, which enables us to design a restoration. We upload the designs into an onsite milling machine, which then crafts the crown from a solid block of dental ceramic. A strong material, one that contains stain-resistant properties, ceramic can be shaded to blend with the rest of your smile and offer durable, lifelike dental restoration.
Question: When do we need one?
Answer: If we find you have advanced decay, too much for a filling to tackle, we may suggest one. We also use them to repair cracked or chipped teeth, or to lengthen teeth that have been worn down by teeth grinding. Placement reshapes malformed or misshapen teeth, and also masks teeth stains in the process. For those with missing teeth, we can anchor a dental bridge in place or restore a single tooth dental implant.
Question: How long will they last?
Answer: Once in place, they cover your tooth's visible portion, protecting it from further decay or infection. With proper care and attention, your new restorations could potentially last for several decades. You should continue to brush and floss your entire smile daily, as the teeth they're attached to could still be susceptible to tooth decay and gum disease. You also need to see us for routine checkups and cleanings. Our checkups enable our team to monitor the repaired tooth and ensure it continues to properly protect your tooth. Our cleaning removes the plaque buildup that could threaten your restorations and your natural teeth too. If you have any questions about our lifelike, one-visit restorations, or if you think your smile could benefit from one, then contact our team today.
Does Your Smile Need a Repair?
If you have teeth in need of repair or restoration, we can often help in just one visit. To find out more about our restorative treatment options, then schedule a consultation by calling Smith Family Dentistry in Greenville, TX, today at 903-455-5750. We proudly serve patients from Hunt County, Greenville, and all surrounding communities.