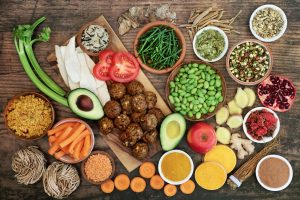 What we eat can have a major impact on the health and function of your smile, increasing or decreasing the risk of issues like cavities, gum disease, and more. Now that you're staying in for the time being, and preventive treatments are not available, you need to watch your snacking and smile care habits even more! In today's blog, your Greenville, TX, dentist talks about choosing better snack and drink options for your family's smiles.
The Links Between Sugar and Tooth Decay
When we consume foods and beverages high in sugar, this leaves particles behind on and between our teeth. Over time, bacteria will break down these bits of food, a process that leads to higher levels of oral acidity and teeth coated in plaque buildup. The buildup then weakens and erodes tooth enamel, increasing the risk of tooth decay as the inner sensitive structures are exposed to bacteria. The same process also inflames gum tissue, boosting the risk of gingivitis and gum disease. Which means limiting our consumption of these items, combined with brushing and flossing each day, could help protect our smiles from poor oral health.
Healthy Food Options
Try to cut back on sugary items, like candy, snack cakes, dried fruit, or starchy options like chips. Instead, offer fresh fruits and vegetables, cheeses and low-fat yogurts, nuts and whole grain crackers, and pretzels. In addition to a lower sugar content, these items also contain important vitamins and nutrients. In fact, some rougher fruits and veggies, like fresh carrots, broccoli, and apples, could help scrub away plaque as you consume them.
Avoiding Harmful Beverages
Avoiding beverages like soda has obvious benefits, as these drinks contain an incredibly high amount of sugar. But did you know energy drinks are also high in sugar, and sports drinks contain lots of acids that could weaken tooth enamel? Even fruit juice contains high amounts of sugar. Instead, try to drink more water, or enjoy a cup of green tea. These items don't put your smile at risk, and are beneficial for your overall health as well. If you do begin to experience toothaches then let us know, as this could mean advanced decay or infection that requires emergency treatment with lifelike restorations, such as a filling or crown.
Do You Have Questions About Protecting Your Oral Health?
Our team is ready to help you and your loved ones enjoy healthier smiles from home, with information about brushing, flossing, and healthy snack choices. To learn more about keeping smiles of all ages healthy and bright, schedule a consultation by calling Smith Family Dentistry in Greenville, TX, today at 903-455-5750. We proudly serve patients from Hunt County, Greenville, Royce City, Sulphur Springs, and all surrounding communities.