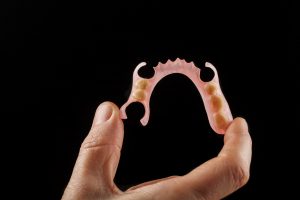 When you lose several teeth, especially if they're spread out across your smile, you may have a situation that is too severe for a bridge. However, you may not need a full denture either. Fortunately, your Greenville, TX, dentist knows how to address these in-between cases of tooth loss with a custom-made partial denture.
The Causes of Your Missing Teeth
Why do we lose natural teeth? For some, the cause could be related to an advanced case of tooth decay, which leads to a severe infection. The tooth could become lost, or require extraction to prevent the spread of infection. An injury could cost you a tooth, or damage it so an extraction is necessary. However, the most common cause is periodontitis, the advanced stage of gum disease. This is the number one cause of adult tooth loss. Unless treated, missing teeth could mean misalignment, TMJ disorder, bruxism (teeth grinding), and complications eating your favorite foods or speaking clearly.
Is a Partial the Right Choice?
If you have too many lost teeth for a bridge, but not enough for a full denture to address, then a partial is the right choice. A partial contains a base made from acrylic, which is created to mimic the appearance of the gums. There will be lifelike replacement teeth included, which we design to blend with your smile and absorb daily bite forces, so you can smile with confidence and eat your favorite foods again. Metal clasps, which are not visible when worn, attach to natural teeth to firmly secure your new ones in place.
Creating Your Denture
To ensure a proper fit and dependable missing tooth replacement, each one is custom-made for your smile. We start by taking detailed impressions and measurements of your smile, which a dental lab uses to design and fabricate the finished product. We then check the fit to make sure it doesn't need adjustment. The prosthetic will need to removed for cleaning and soaking occasionally, and can last up to ten years before requiring replacement or adjustment.
Maintaining Your Smile's Stability
Routine care could help prevent the loss of additional teeth. You should see us every six months for a checkup and cleaning. We suggest enjoying a healthier diet, which deprives harmful bacteria of the sugar and starch needed to cause tooth decay and gum disease. You should also brush your teeth for two minutes when you wake up and again before bed, and floss prior to bedtime too!
Your Greenville, TX Dentist Provides Custom Prosthetics
At Smith Family Dentistry, we want to ensure your new teeth not only fit well, but look great and last for years to come. To learn more about the benefits of addressing your tooth loss, then contact your Greenville, TX, dentist, Dr. Smith, by calling 903-455-5750.