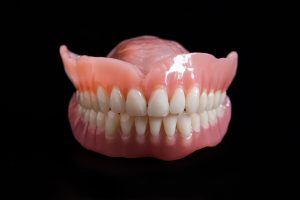 When you lose the majority of your natural teeth, or experience the loss of every single one, this could impact your oral health. To avoid issues with everything from eating and speaking, to the stability of your facial structure, you need a prosthetic. In today's blog, your Greenville, TX, dentist talks about creating full dentures!
What Happens When I Lost My Teeth?
When you lose most of your teeth, this limits your ability to eat certain kinds of foods, which deprives you of crucial nutrients and forces you to rely mainly on soft items. You could also develop trouble speaking clearly, or feel embarrassed about your appearance, which impacts quality of life and your social interactions. Without tooth roots, the jawbone will also stop sending doses of calcium and phosphorus to the bone tissue around the missing roots. As a result, the bone structure loses mass and density and breaks down, causing an aged appearance to develop.
Creating a Full Prosthetic
Each prosthetic we create for a patient is custom-made, as this ensures a proper fit, better comfort, and improved ability to eat your favorite foods again and speak clearly. We begin by taking detailed impressions and measurements of your smile, using this information to design and fabricate the denture. A full contains an acrylic base that will mimic the look of gum tissue. The new teeth will be created from durable materials like ceramic, which can absorb bite forces and be tinted to look natural. We want to make sure your new smile looks and feels great.
Removable vs. Implant
We have two very different options. The most common is removable, meaning suction or possibly a special adhesive will be used to keep them in place. You need to take them out for cleaning and soaking, and they tend to need replacement every 5 to 10 years, as the loss of jawbone density and mass causes the fit to change.
We also have implant options. We attach the entire prosthetic to several dental implants inserted into each arch. They act as new tooth roots, which stimulates the growth of jawbone mass and density. They then have the ability to stay in place for decades, possibly even a lifetime, and never need to be removed for soaking or cleaning. You enjoy greater stability overall. If you have any questions about full dentures, or if you don't know which is right for your smile, then contact our team today.
Your Greenville, TX Dentist Provides Full Dentures
At Smith Family Dentistry, our team is ready to create a prosthetic that fits great and looks natural too. To learn more about creating a secure and lifelike prosthetic, then contact your Greenville, TX, dentist, Dr. Smith, by calling 903-455-5750.